The following two tabs change content below.
Donncha Hughes is a mentor, trainer and business advisor. I deliver group and one to one training on Wordpress. My background is assisting business with development of marketing, business plans, grant and finance applications. See www.startuphughes.com for more...
Latest posts by Donncha Hughes (see all)
Every page and post in WordPress has an ID number. This post provides instructions on how to find your Page or Post IDs in both Mozilla Firefox and Google Chrome web browsers.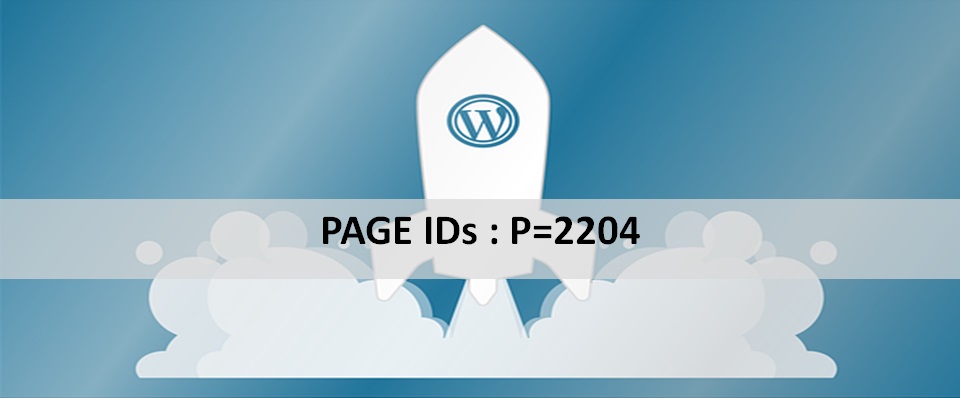 Use of Post or Page ID
The ID of a particular post or page may be needed by some plugins. For instance, a Sitemap plugin should allow the option to nominate page or post IDs that are not to be displayed in the sitemap. Some themes that use Banner Sliders will also require page or post IDs to be specified – the Featured Image of nominated page or post is used in the slider when the appropriate ID is input into the plugin settings.
Browser status bar displays Post and Page ID
Using Firefox, the following steps will display the Page Id:
1. go to "Pages" screen in the WordPress Dashboard
2. hover over the page name
3. look at your Browser ' Link Preview' status bar, there's your id – the display in the bottom left of your browser
If it looks like this "post.php?post=2204&action=edit". In this case 2204 is the id.
Within a page or post, the Page or Post ID will also be displayed in the "Link Preview" status message in Firefox.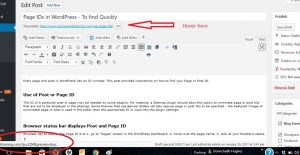 In Chrome, the Page ID is displayed in the main Browser Status Bar (at the top of the page) when editing a Page or Post in WordPress.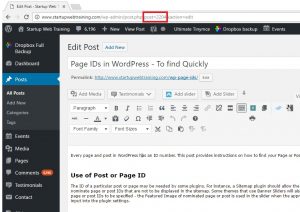 Permalinks to display Post or Page ID
If all else fails, the longer solution is to change the Permalink setting temporarily in WordPress:
1. in the permalink settings to revert to the default (http://startupwebtraining.com/?p=2204)
2. now look at the pages and write down their ID numbers.
3. go back to the permalink options page and revert again to post names (/%postname%/)
It is very long-winded but it does work.
Plugins
There are several plugins which display the Post and Page IDs in the admin menus. This can save you a lot of time if you need to get IDs from many Posts or Pages.
Catch IDs is a simple and light weight plugin to show the Post ID, Page ID, Media ID, Links ID, Category ID, Tag ID and User ID in the Admin Section Table.
Reveal IDs is another option to add Page and Post IDs to the WordPress Admin area.
More WordPress Tips
This is article #.1 in a 7 part series of WordPress Tips or Hacks
Page IDs in WordPress – To find Quickly using Firefox and Chrome
As always I hope you found this article of benefit.
regards
donncha
@donnchadh on Twitter (shares and comments on social media appreciated)
Image Attribution: https://pixabay.com/en/wordpress-marketing-rocket-tablet-1882120/