WordPress is a brilliant Content Management System (CMS). This means that any business owner or trusted team member who is IT competent can now design and create a professional website to promote their business using WordPress. Websites are vital to promote your business and engage with customers. WordPress used to be associated solely with blogs and it remains ideal for blogs but it is also brilliant for full websites – I have read that over 20% of all websites in the US are developed using WordPress.org to include many of the Fortune 500 companies. The key advantage of WordPress is that you can update your website as often as you wish. Your website can then be a driving force for your Social Media strategy … Facebook, LinkedIn, Twitter, Pinterest and YouTube.
This site features 40+ and growing blogposts to complement my training workshops. For those new to WordPress I suggest you read my post entitled 'What is WordPress and Why I recommend it?' which includes a 2 minute YouTube video of WordPress in action.
Structured Training Programme
The training includes THREE ELEMENTS
1. Advance Preparation
Secure URL (website address) for your business
Install WordPress
Participants will be required to secure a URL, referred to as their domain, and to ensure that WordPress is installed. As part of this process, a Username and Password will be selected for your chosen domain. Please note that the cost to you to buy a domain and hosting will be approximately €60 including VAT per annum. I have written a blogpost on this topic ...
An alternative is to install a programme on your PC that allows you to learn how to create a WordPress site – you can participate fully in all the training but the site will not go live.
Further advance preparation will be required. Each participant business will be required to create a Website Design Plan – I will send you an email with guidance in advance. This requires thinking about the key objectives, messages and functionality of the site. I have written a blogpost outlining how to create a professional website in ten strategic steps – step 4 is create a Website Plan.
2. Group Training Workshops
The first workshop will showcase several live business websites that have been created by participants on previous programmes to highlight the functionality that can be provided by WordPress. BTW, if you want to know if any website is created using WordPress, just go to WhatWPThemeisThat.com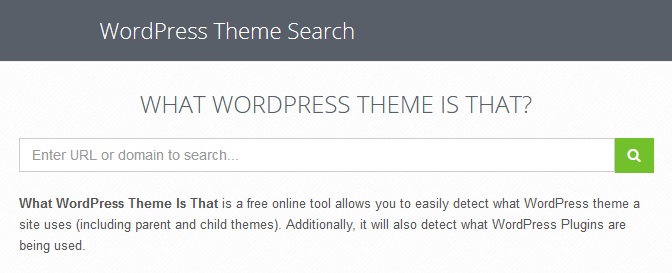 The 2 .5 day programme will then address how to build and update your site i.e. after the workshops you will be ready to publish and promote your business website.
Please note that WordPress sites go live as soon as the hosting is activated. All edits such as posts and pages are activated in real time. For the purposes of this training, I advise activating a plugin that displays a holding or 'under construction' page until you are happy to publish your site
You will get very familiar with the following wordpress terms as you participate in our practical wordpress training workshops.  As such you can read about them here but no need to get too worried about them.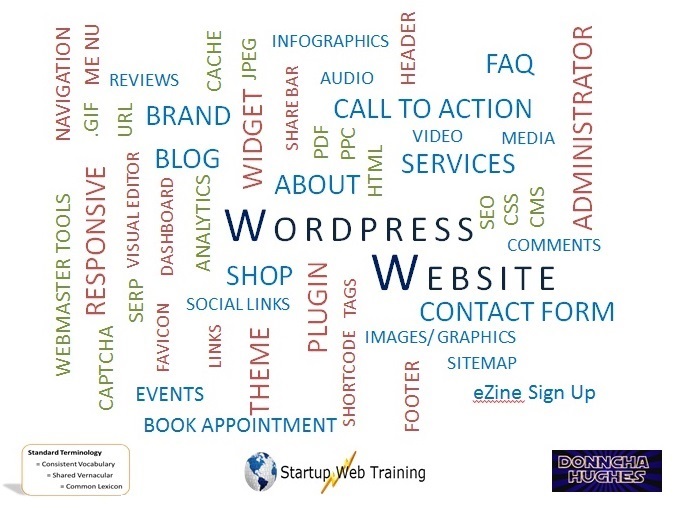 Who is this programme suitable for?
I mentioned 'IT Competent' personnel at the top of this page. This workshop will be very enjoyable if we keep good momentum and people can see results quickly. As such I would suggest that people who like IT, who like messing around and learning on computers, will benefit most from this programme. WordPress is not complicated. But it does require a certain aptitude and attitude. Once you know the basics most IT literate people should be able to figure it out. Have a look at the videos in the sidebar. This is what we will be doing in the workshops – can you see yourself enjoying building your site using WordPress. You will have the advantage of a peer group to bounce ideas off, and also a facilitator who is self taught (and pretty good at explaining things) using WordPress. When asked I often suggest that a business nominates one person to be the WordPress champion to be responsible for designing the site. Other people can then be given more limited access and responsibility.
Onine Training Announcement
I am planning to publish an Online version of my 22 Step Business Website Creation Programme -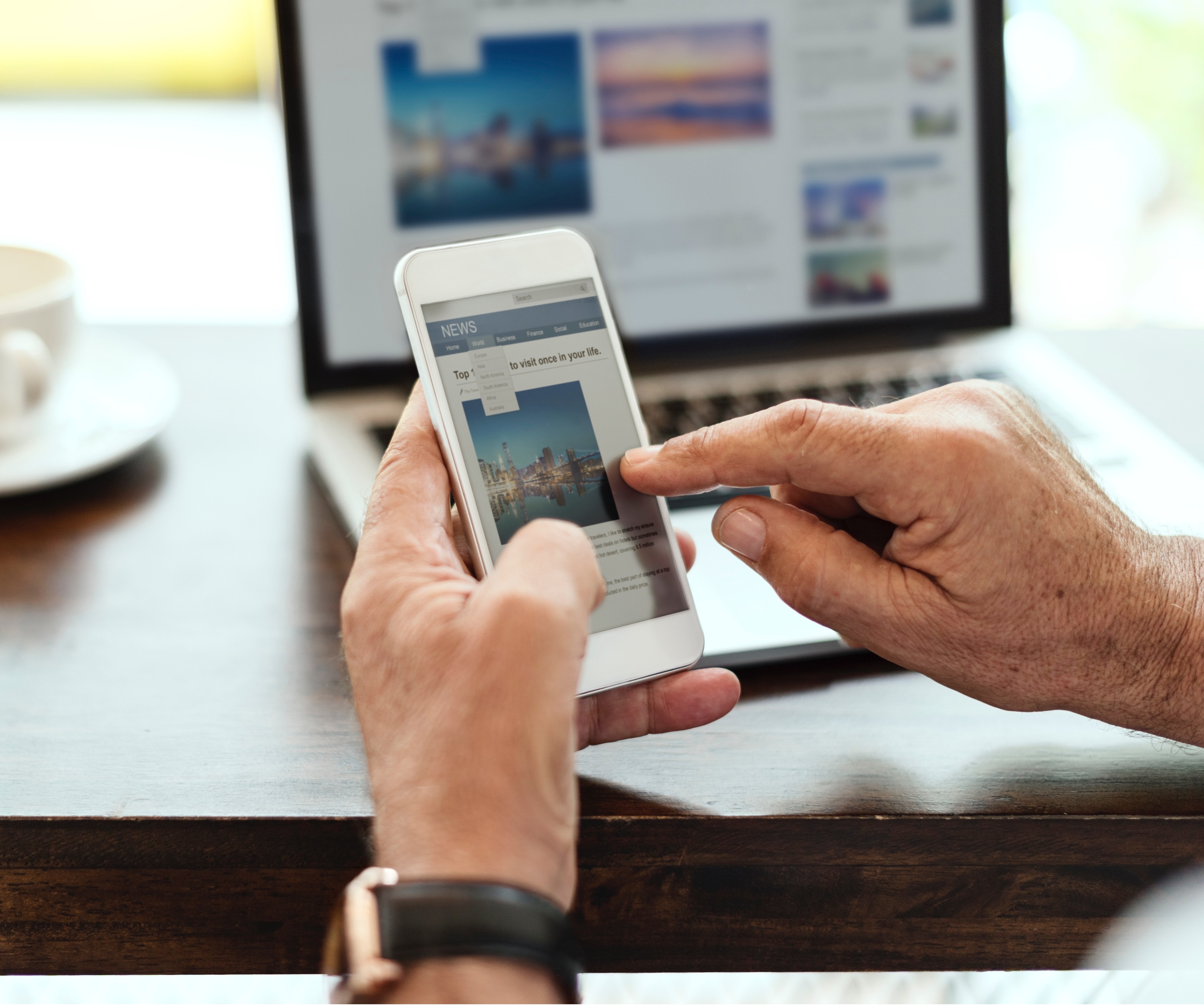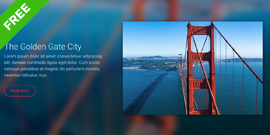 The Programme Outline
The following topics will be addressed:
Welcome & Introductions
Introduction to the WordPress Dashboard
Demonstration of the features of several Live WordPress sites

Themes
Pages, Posts & Categories
Navigation and creating a Menu for your Site
Permalinks and other settings

Designing your Site

Header & Logos
Footers
Sidebar Widgets

All about Plugins
Images for your Site

Adding a Gallery
Free images and free icons
WordPress roles – Administrators, Editors and Users
Social Media Integration & RSS
Optimising your Site

Permalinks
Inbound and outbound links
SEO (Yoast)

Working with Google

Google Maps
Google Business
Google Analytics & Search Console

SiteOrigin PageBuilder

Hero Image + Headlines
Blogpost Carousels
Buttons + Calls to action
Workshop group sizes will be limited to 10 people. Everyone will be operating from their own Wi-Fi enabled laptop. As such everyone will benefit from a small peer network and a certain amount of one to one support on the day.
My favourite plugins include:

CGC Maintenance … pick a page as your 'Under Construction' live page as you work on the rest of your site
All in One Favicon by Arne Franken … if your website Theme does not have a Favicon
Black Studio TinyMCE Widget by Black Studio … Adds a WYSIWYG widget based on the standard TinyMCE WordPress visual editor.
Broken Link Checker by Janis Elsts and Vladimir Prelovac … Checks your blog for broken links and missing images and notifies you on the dashboard if any are found.
Contact Form 7 … See my blogpost on how to configure this superb plugin for creating Contact forms on your website
Call Now Button by Jerry Rietveld .. Mobile visitors will see a call now button fixed at the bottom of your site
Cookie Consent by Catapult_Themes … adds the required Button and backup pages for Cookie Consent
ELI's Related Posts Footer Links and Widget … This Plugin creates links to Related Post at the bottom of every post.
Fancier Author Box … Adds feature rich author box to your posts, pages and custom post types.
Google Analytics for WordPress by MonsterInsights … to set up Google Analytics for WordPress
Lightbox plus Colorbox by Dan Zappone… adds lightbox image overlay to WordPress ie images on each page become a slideshow when you click on them
o3 Social Share … This plugin creates share boxes for Facebook, Twitter, Google+, and LinkedIn
WordPress SEO …. Yoast. The first true all-in-one SEO solution for WordPress, including on-page content analysis, XML sitemaps and much more
Smart Slider 3 … see my blogpost on this Slider Plugin
SiteOrigin Page Builder Plugins … see my blogpost on the SiteOrigin Page Builder which demonstrates how to build a 404 error page using SiteOrigin.
WP Sitemap Page … Add a sitemap on any page/post using a simple shortcode
WP Super Cache … Very fast caching plugin for WordPress.
WPshore Breadcrumbs by Nablasol … for displaying simple breadcrumbs on pages if not part of your theme
Smush by WPMU DEV .. Reduce image file sizes, improve performance and boost your SEO
WP Clean Up ... WP Clean Up can help us to clean up the wordpress database
WonderPlugin PDF Embed … to embed PDFs.
The Events Calendar by Modern Tribe … as featured on this website
Dropbox Backup & Restore… While your Hosting provider will offer a Backup service, i think this one is great. Backs up your website files on request to Dropbox. Twice a year should be enough.

Plus many more depending on want your website to do..