The following two tabs change content below.
Donncha Hughes is a mentor, trainer and business advisor. I deliver group and one to one training on Wordpress. My background is assisting business with development of marketing, business plans, grant and finance applications. See www.startuphughes.com for more...
Latest posts by Donncha Hughes (see all)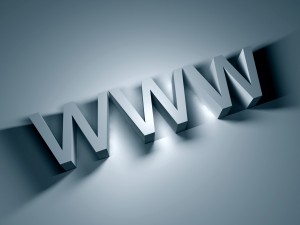 The major problem for anyone creating a website is figuring out what to say/write/put on your website. After deciding that your business needs a professional website you need to generate ideas on what information potential customers want to access on your site. After all your website needs to work within the context of SEO, inbound marketing to include blogs and your Social Media. This blogpost sets out ten steps on how to create a professional website. These are steps that you can follow yourself or working with a Web designer/developer (external expertise must be seen as an investment not just an overhead!)
Please note that this article addresses Items 2 to 10 first, leaving the most important item to the bottom of the article.
#2. Buy your URL and Get Your Hosting
The URL or domain address selected for your site is very important. When selecting a business name, the availability of the 'correct' URL should be a pertinent factor. I generally suggest that a short, associative URL which is easy to spell is the best option. [At this point you should also secure the relevant Social Media addresses for your brand]. For step by step instructions on how to buy your URL and Hosting…
#.3 Incorporate your logo and other branding collateral
Your website should integrate seamlessly with your offline marketing and promotional material to include business cards, letterheads, and brochures.
#. 4 Create a Website Plan
Start with a blank sheet of paper (or a Mindmap) and decide on how to structure and present information on your site (this will determine the number of pages). You will need to decide how you will interact and engage with visitors – your customers and potential customers.
#.5 Define your audience – create a persona for your ideal customer in order to write copy for your pages
You need to write for your audience. You need to think about what they want to know or learn or do (to include buy) on your site. Why will they firstly visit and secondly spend time on your site. It is useful at this point to create a persona of your ideal customer. A restaurant in a major city could think about a mother traveling in a car as a passenger searching her smartphone for ideas on where to eat that are family friendly and will suit the tastes of the two noisy kids and the even noisier grandparents. What information does she need?
On-page SEO is all about 'organic content' which means that Google likes when content is written for the reader. A critical SEO step is to undertake, 'keyword research' to identify the most popular search terms which you should build into your content as appropriate. Brian Dean of Backlinko has a superb YouTube video on this subject of Keyword Research.
#.6 Familiarise yourself fully with your Content Management System
This blogpost assumes that WordPress has been selected – here is a post on why I recommend WordPress. It is however worth checking out blogposts on the advantages and disadvantages of WordPress. In any event you need to be fully up to speed with your Content Management System (CMS) so that you can design and update your site.
Select a Theme … the template design for your site.
Add pages
Add images
Create links to your Social Media
Add a contact form
Add a Gallery of Images etc etc
According to WordPress.org 17% of the web is powered by WordPress. I really like that there are a huge number of explanatory videos on YouTube.
#.7 Learn how to 'optimise your site'
You will need to learn about Search Engine Optimisation (SEO) to ensure that your content is ranked on Google.
The highly popular free plugin Yoast can be added to your WordPress to help you optimise your site.
We have already mentioned 'unique content' as being a critical part of On page SEO impacting significantly on organic search results. My one day SEO programme, addresses best practice SEO at the beginner to intermediate level.
Moz.com/blog is a great source of up to date information on SEO.
#. 8 Integrate with Social Media
Social Media – twitter, linkedin, facebook, youtube, pinterest, tripadvisor, yelp and many more to include Google+ – is critical to the success of your website. Use plugins to allow your visitors to share your content and also to easily find you on your selected social media channels. Dont forget to check out my blogpost in the Social Media category.
#.9 Set up various Google Tools
When you are happy with your site, you can inform Google that your site is published at www.google.com/addurl
Please note that you will need to get into the habit of TESTing your site. WordPress is edited on a live basis. As such when you make changes it is good practice to make sure that the site works properly on the most popular browsers such as Firefox, Chrome and Internet Explorer. Your hosting should include a backup process and you can also download a plugin for this function.
#.10 Promote your website offline
Congratulations, your professional website is now ready for launch. It needs to be promoted offline and fully integrated into your marketing efforts.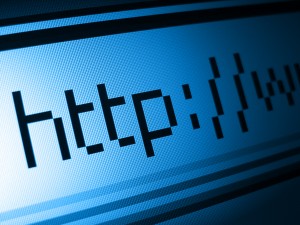 You may have noticed that #1 was missing. Before I address the most important issue in planning your website, I trust that you agree that designing, developing and maintaining a website is a major task that involves a lot of work. It can easily be a project that begins with great enthusiasm but which falters over time. If you see the benefits to the bottom line of your business, you will be motivated to keep up the efforts.
#.1 Define your Goals
Firstly, you need to deeply understand the type of people who will be visiting your site, why they will be visiting and what they want from the website and secondly, you will need to clarify what you hope to achieve with your website. Matching up these two provides a great basis to decide what kind of content and features will be useful in your website. The two go hand in hand, because the satisfaction of customer goals leads to the realisation of your business goals. Take the example of the frequently asked questions – not only does your business benefit because you save costs, but your customers are also much happier because they can quickly find a solution to their problem.
So this is a slide I discuss during my SEO One day programme with Galway LEO. There are many Calls to Action that your business can focus on to assist visitors to your site on their buying journey.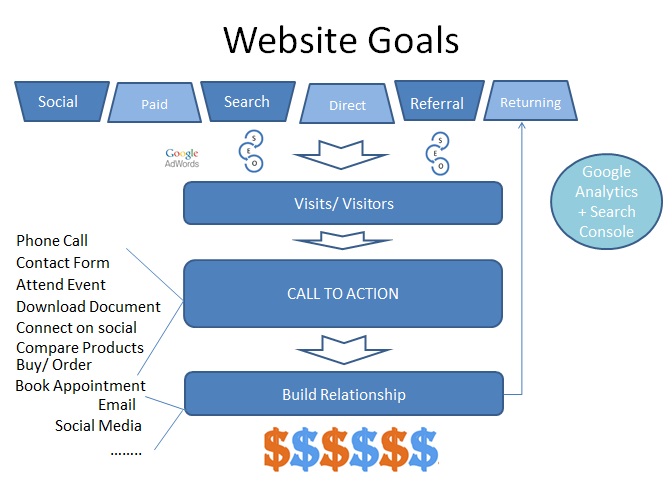 As always, I hope you found this article useful, comments and shares on social media welcome.
regards
Donncha (@donnchadhh)