How to get an email address to match your website address?
The following two tabs change content below.
Donncha Hughes is a mentor, trainer and business advisor. I deliver group and one to one training on Wordpress. My background is assisting business with development of marketing, business plans, grant and finance applications. See www.startuphughes.com for more...
Latest posts by Donncha Hughes (see all)
This post will address how to set up an email address to match your website address. In summary the steps are as follows:
Buy a URL or domain from a hosting provider – in this case I secured one from Blacknight Solutions
Buy Hosting in order to publish your site.
Set up Email address via your Host. Blacknight will give you a Username and Password to a Control Panel to manage your website and email.
Set up email on an email package like Outlook using settings provided by your Host.
Set up email on your Smartphone using settings provided by your Hosting provider.
Worked Example
I provide training on the GIBO programme. Blacknight  Solutions have announced that businesses who have created their website (free for the first year) as part of the Getting Irish Business Online initiative can now get one email address to match their URL. This adds another professional touch.
I added an email address to my sample site so that I can now receive email to info@startuphughes.biz – this post lists the steps to create the email address and then to use Mozilla Thunderbird to access your email.
Starting point
As always the starting point to update your website is the Blacknight control panel https://cp.blacknight.com/ where you login with your username and password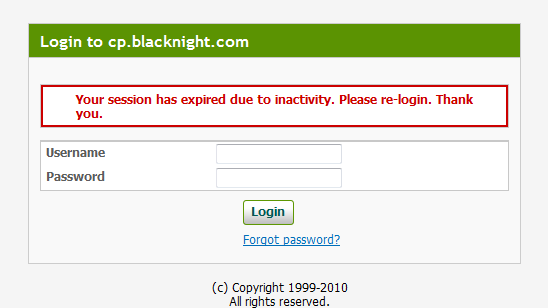 Instead of clicking on Build My Site as you normally do, the next step is to click on WEB HOSTING in the top green menu as shown below.

From Tools select the email address menu. As shown below you can select an email address to match your URL. I selected info@startuphughes.biz and added a password (which I wrote down as you will need this later).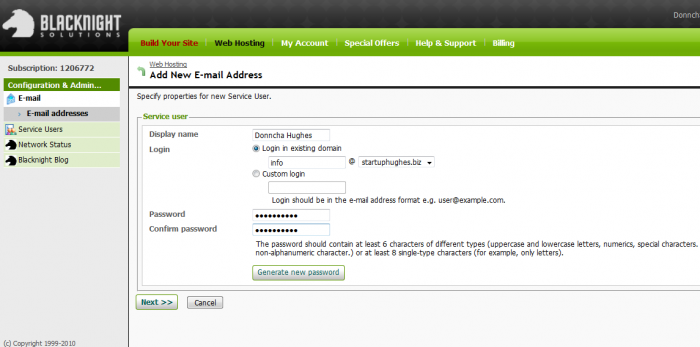 Viewing your webmail
When you have your email account set up and configured (to include requesting a test email message) you can go to http://altmail.blacknight.com/ to sign in and collect your webmail. You should probably bookmark this address if you intend to use it regularly.
Using an email package
You can use an email package such as Outlook to access your email. I set up my account on Mozilla Thunderbird as follows:
I already have thunderbird so I need to add another email account to the package (you can have more than one)
Click on TOOLS
Click on ACCOUNT SETTINGS and then left click ACCOUNT ACTIONS (the grey button at bottom left which is in fact a drop down menu)
You then input the following:

Add Username (your new email address
Password

Click on MANUAL Configuratiion and replace text which probably lists your URL so that the settings are as follows:

Incoming mailserver: mail.blacknight.com
outgoing mailserver: mail.blacknight.com

You should now receive your test email
Using Smartphone for Email
A smartphone such as an iPhone/iPAD or my Samsung Galaxy S7 can be used to access your email. The Email Set Up Wizard for the iPAD or Galaxy can be tricky. The key settings are:
1- Select Manual Setup
2- Select IMAP (Pop3 is the other option so just try both)
3- mail.blacknight.com for both incoming and outgoing server
4- Add your Email Password when requested
5- Untick Mail Push Notification
I hope that you found this post useful. As always comments welcome
@donnchadhh