The following two tabs change content below.
Donncha Hughes is a mentor, trainer and business advisor. I deliver group and one to one training on Wordpress. My background is assisting business with development of marketing, business plans, grant and finance applications. See www.startuphughes.com for more...
Latest posts by Donncha Hughes (see all)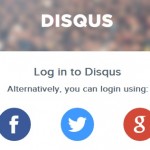 Disqus (prononuced Discuss) is a fantastic FREE service for WordPress websites to manage comments by visitors. I first used the service on the Tweak Your Biz site which I write for and followed the link to add Disqus to my own wordpress website.
I was looking for a solution to the WordPress SPAM problem and now I would recommend Disqus highly as a service which looks cool on your site. It is very easy to set up.
What is Disqus –  the end user experience
When you visit a blog that has Disqus installed, you have to login to comment. You can login with a Disqus account, or using Facebook, Twitter or Google+ and the owner of the site has the option to allow Guests to comment also… all options are very quick. If you login using the Social networks, Disqus can display your profile picture.
As a webmaster you want your commenters to use Disqus so that the comments appear real and genuine to other readers. Before this I was using Gravator.com  but Disqus is a broader option.
Disqus – build your community
The big message  on the Disqus website is how the service allows you to build a community. What I really like about it is that my account follows me to other sites. I can see all my comments via Disqus in one place. I can also follow other people on Disqus. So if 'Ash Maurya' who I follow on Disqus comments on his or any other website I can see that.
How to set it up
Disqus is very easy to set up. After you register an account with Disqus you can click on the WordPress Icon to get instructions on how to install on your WordPress site….. download the plugin and follow the step by step instructions is a good summary.
To discuss Step 5 further, Disqus asks you to nominate a shortname for your specified website or blog when you register an account on their website. After you download the plugin in WordPress you are asked to enter your username and password – the plugin then presented me with the shortname and I just had to confirm that it was the right one. And hey presto, Disqus was installed on my site.
How to use Disqus to moderate comments?
Disqus creates a new Menu Item in the Comments Tab in the WordPress Dashboard. Within Disqus Settings in the Menu you can select Disqus to operate on all published and future posts, and Disqus will import all comments within a few hours. This replaces the normal or standard WordPress comment system on all pages and posts.
To display Disqus on any post simply ensure that Comments is ticked in the Dashboard [>>Show All posts >> Quick Edit >> Deselect Comments]

In this setting tab, you can also choose for Disqus to email you when someone comments. I would generally advice that all comments be moderated so nothing is published without the website owner's approval. In this case, the person leaving the comment, is informed that comment is awaiting moderation and will be published in due course. They can then elect to be updated on all future comments relating to this post to include replies to their comments. Within the Disqus comment menu the website owner can nominate other moderators. Moderators can then approve comments. But for some reason you can not respond within the Disqus administration dashboard – you have to go back to your own website to respond. There is also a system whereby you can respond directly to a comment from the email that you receive informing you of the comment – but that did not work for me as the formatting was terrible.
I like Disqus
I really like Disqus as it was easy to install and it looks cool on my website. It also does NOT slow down the site which is very important and does not seem to deter people from adding comments. I hope you find this blogpost useful and of course comments are welcome…
regards
@donnchadhh