The following two tabs change content below.
Donncha Hughes is a mentor, trainer and business advisor. I deliver group and one to one training on Wordpress. My background is assisting business with development of marketing, business plans, grant and finance applications. See www.startuphughes.com for more...
Latest posts by Donncha Hughes (see all)
This blogpost has been written specifically for participants attending the upcoming GIBO workshop to be delivered on behalf of LEO Tipperary. On the day, participants will be shown how to create a FREE website for their business using Blacknight's Website Builder – an easy to use content management system created for the Getting Irish Business Online Programme.
This particular post focuses on what you need to do in advance. Step by step instructions are provided in the embedded YouTube video to secure your website domain (URL or website address) which you will need to do in advance of the workshop.

For the record the steps to secure your URL are:
Open Firefox (download here if needed)
Go to this website: GettingBusinessOnline.ie
Complete the application form by Clicking Get Started

Select your URL (Choose a domain)
Add business details on first page/ screen of online application form
Verify your application – via text SMS to your mobile phone
Add Text to Homepage
Choose a Theme (or template/ colour scheme)
Select your Login Details – username and password.
The video makes the point that you should NOT hit the BACK button on your web browser when you are completing this online application.
Account Activation and Validation
The video explains that you will get 4 emails from Blacknight Solutions. These serve different functions which confirm your domain and account with Blacknight. When your account is activated, the website will be accessible via the Blacknight Control Panel – cp.blacknight.com

I also got another email (not referenced in the Video) from an official Blacknight email address asking me to confirm my email address so that the domain could be verified and registration completed. The email explained that Blacknight Solutions are asked to send this particular email to comply with regulations specified by the Internet Corporation for Assigned Names and Numbers (ICANN) for all new domain registrations. You will have 10 days to respond to this email.
Within the Blacknight Builder it explains that the Media Uploader is only available when this domain registration is complete. The media uploader allows you to upload media such as pictures to include logos.
I would suggest that you click on the Create Media Uploader button before the workshop just to make sure that it is working ok. So Select >>> BUILD YOUR SITE >>> and >>> MEDIA >>> and click the grey button. You will know it has worked if the screen matches the AFTER image above (click to enlarge).
Finally, you might also like to Secure a Matching Email address for your business – provided as part of the programme. We will address this as topic number one during the GIBO workshop.
Hope you found this blogpost useful.
Best regards
donncha (@donnchadhh)
p.s I found a YouTube Channel called Kerry Flyer which has five GIBO related videos – might be worth a look (No.1 and 2 have been covered in my video so start with No.3).
UPDATE:
In the days after Purchase of my new domain, I got TWO separate emails about Registering my Domain with Search Engines from two official looking accounts. Both of these are HOAXES or SCAMS or whatever you want to call them – but they seem legitimate and are persuasive. We will be covering Search Engine Optimisation (SEO) during the workshop. My suggestion would be to delete immediately and not to click on any links contained in such emails. Here is a screenshot of one of the emails: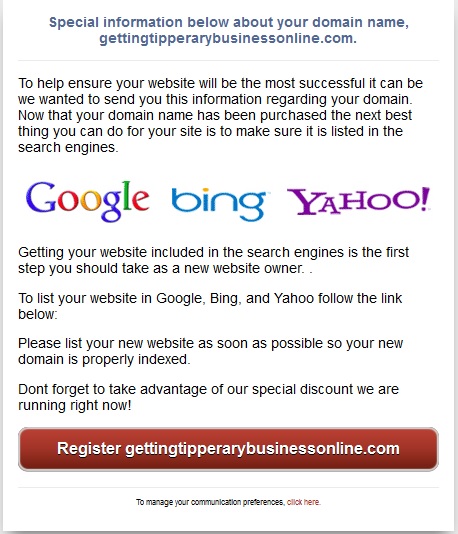 Only click and respond to emails sent to you from Blacknight Solutions. If in doubt, give them a call … based in Carlow.