The following two tabs change content below.
Donncha Hughes is a mentor, trainer and business advisor. I deliver group and one to one training on Wordpress. My background is assisting business with development of marketing, business plans, grant and finance applications. See www.startuphughes.com for more...
Latest posts by Donncha Hughes (see all)
UPDATE – SUNDAY 20th April
I finished the half marathon for LauraLynn and WE raised the half million for LauraLynn. My time for the record was one hour 59 minutes (closer to 58 minutes and I was delighted to finish under 2 hours for my first half marathon). Thanks to everyone for supporting my fundraise. I had set a target of €500 and to date €475 is in the kitty to include both online and offline contributions so hoping to achieve both my targets.
*******************************************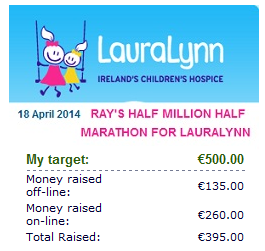 UPDATE (16th April 2014)
The half marathon is this Friday. Thanks to everyone who has sponsored me so far –  both online or offline (I have a sponsorship card or you can simply text me and I will collect when I meet you).

I am going to run half Marathon with  Ray D'Arcy, Today FM on 18th April 2014 in the Phoenix Park for LauraLynn. Appreciate all support via MyCharity page. Delighted to be one of 2000 people raising €500,000 for Irelands only children's hospice. This video is brilliant
…https://www.youtube.com/watch?v=8bSgvqX6BnU (in case it does not play directly for any reason).