The following two tabs change content below.
Donncha Hughes is a mentor, trainer and business advisor. I deliver group and one to one training on Wordpress. My background is assisting business with development of marketing, business plans, grant and finance applications. See www.startuphughes.com for more...
Latest posts by Donncha Hughes (see all)
This post will detail ho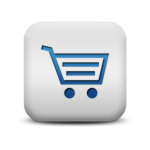 w to use the Blacknight Sitebuilder tool to sell your products on your website created as part of the Getting Irish Business Online initiative. Payment is accepted using your Paypal Business account. I see the Getting Irish Business Online initiative as a great way to get your first website for your business up and running. It facilitates a business to sell up to 20 products online. As such it is a great way to dip your toe into online selling without major expense. The starting point as always is to log into the Blacknight Control Panel
Do you want to Sell Products Online?
If you want to sell Products Online, the Blacknight Sitebuilder tool:
1: Lists Products
2: Allows your customers to connect automatically with Paypal if they wish so that you can accept payment (you can also accept payment via cheque in the post or cash on delivery if you wish).
It is important to understand that Blacknight does NOT
1. Process any money or allow you to directly use a credit card machine that your business may have at its disposal
2. Keep track of any orders – you will have to create your own system and process for this to include emailing your customers.
The default page that is created for your site will be called 'Products' so please ensure that none of your other pages also use this page title. The shopping functionality is perfect for a small business that wants to quickly and with limited complications and/or risk start to sell online.If orders come rushing you can always upgrade!
How to Set up Your Products Page?
Blacknight have created a video which is available via the Business Forum to show how the Products page is created. This is an excellent video so I suggest that you watch it a few times as you set up your page.
The End Solution
My 'Products Page' lists two services which I charge for and an eBook which is free.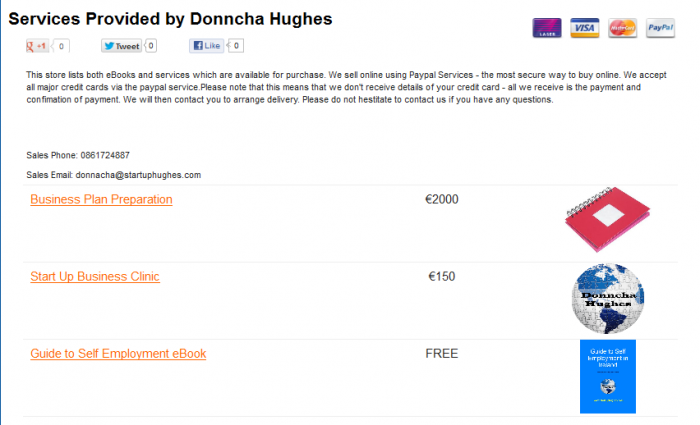 a. I added a store description as follows:
This online store lists both eBooks and services which are available for purchase. We sell online using Paypal Services – the most secure way to buy online. We accept all major credit cards via the paypal service.Please note that this means that we don't receive details of your credit card – all we receive is the payment and confirmation of payment. We will then contact you to arrange delivery. Any questions do not hesitate to contact me.
b. If you want to accept online payment, you will need to set up a Paypal account. There are many advantages to Paypal to include acceptance payment in foreign currencies. For your customers Paypal is recognised as a global leader in online payments. The process means that you don't get any credit card details from your customers – all you get is their payment. When you can accept payment via Paypal your customers have the option to use either their Credit Card, Laser or indeed their own Paypal account. Your customers don't necessarily need to have a Paypal account. As such you can say that your business accepts all major Credit Cards.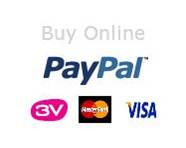 c. You can use the eCommerce facility to display the products for Sale but not necessarily accept online payment. Simply select the Manual Option within the Sitebuilder tool at the bottom of each Product Page. You may want to add some details to the Shipping Box.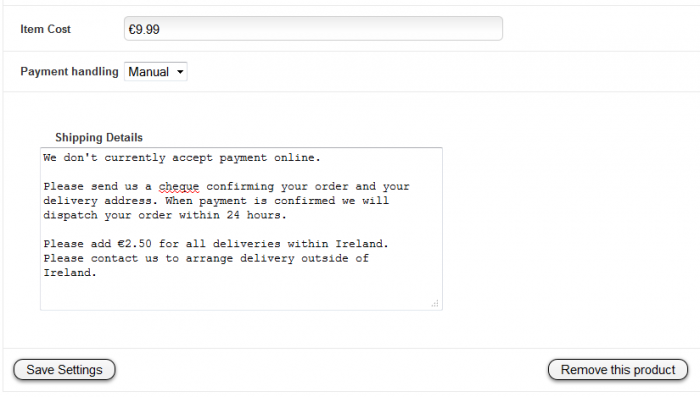 d. The BUY NOW button
I added Item Codes to all my products and used them in Blacknight and made sure to use same Item Code in Paypal. I used the format DH001; DH002 etc etc.
These buttons can be placed on any page within your site. Use the HTML editor to insert the code that you copy from Paypal.
On the Paypal site you can also avail of a free SHOPPING CART facility allowing your customers to buy multiple items and pay for them in one transaction.
e. How much does Paypal Cost?
The rate you will be charged by Paypal is 3.4% + €0.35 EUR per transaction if monthly sales are under €2,500.
f. Add Images, YouTube Video and other embedded media
For one of the services, I embedded a YouTube video into the full description page. You could easily embed a Slideshare presentation or a slideshow of Picasa photos.
g. Don't forget your Meta Keywords and Meta Description
Search Engine Optimisation (SEO) is very important if you are selling online.
Final comment
Adding an eCommerce facility is what I consider an Advanced feature – one you may not require immediately. It is not covered in my initial GIBO 3 hour training programme. But I hope attendees will learn enough and be familiar enough with the Sitebuilder tool to be able to follow the instructions outlined in the Blacknight video above if they want to add an Online Shop after the programme. The related advanced feature would be executing your first Google Adwords campaign – a topic for a future blogpost!
As always I hope you find this blogpost useful. Comments welcome.
regards
@donnchadhh