The following two tabs change content below.
Donncha Hughes is a mentor, trainer and business advisor. I deliver group and one to one training on Wordpress. My background is assisting business with development of marketing, business plans, grant and finance applications. See www.startuphughes.com for more...
Latest posts by Donncha Hughes (see all)
I recently added a Tab to the Bridgewater Management Facebook page for the Bridgewater Management Blog. It is a cool application from NetworkedBlogs.  It creates a TAB in Facebook for your blog. When people click on the tab they can see all your blogposts. The cool feature is that they can vote for their most popular post. This blogpost will set some general instruction on how to add your Blog to Your Facebook Business Page – this is a great place to put my notes.
Result
A Blog Tab is created on your Facebook page so that you Fans can access your posts.
To start
My starting point is to log into facebook. You go to your individual page. In the Search box at the top of facebook you can search for a Facebook application. You can type in what you like and Facebook will return results – you are looking for an App as opposed to a Person, or Service/Product or Musician.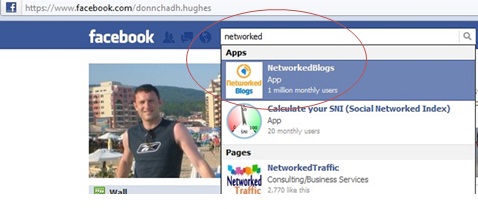 Clicking on the link will bring you directly to the selected App page on Facebook. For NetworkedBlogs this is https://www.facebook.com/networkedblog On their page you select 'Add to My Page' which is in blue writing on the left hand side column. The application will now be added to your list of apps on Facebook. The app will ask you if you want to app to work with your personal page or with any Business Page that you administer. In the NetworkedBlog I had to register my blog with them. There were a few steps involved in verifying that i owned the blog. One method is to get 6 friends on Facebook to confirm that you are the author of the blog. As an alternative there are also easy to follow instructions on how to claim your blog by pasting some HTML code to your blog.
There are lots of other Facebook apps such as adding your Twitter stream as a tab or adding a Contact or Welcome page.
I enjoy figuring out how to get Facebook and our Blog working together. I hope you enjoyed this post. As always comments welcome.
regards
donncha (@donnchadhh)