The following two tabs change content below.
Donncha Hughes is a mentor, trainer and business advisor. I deliver group and one to one training on Wordpress. My background is assisting business with development of marketing, business plans, grant and finance applications. See www.startuphughes.com for more...
Latest posts by Donncha Hughes (see all)
Reviewed July 2013
As regular readers know, I am a trainer on the Getting Irish Business Online initiative. This offers the opportunity for sole traders and SMEs who don't have a website to build and publish a website at no cost for the first year. As you build a website you need to take cognisance of Search Engine Optimisation. During our training workshops we do not have too much time to discuss SEO. When I deliver the programme I quickly discuss four slides to introduce the topic and explain how you can add content to your site and be mindful of SEO. A follow up course on SEO and Google Adwords is being considered. This blogpost will provide my views on this topic and hopefully will stimulate some discussion.
The first thing to remember is that a website is only one element of an online marketing strategy. I would strongly recommend reviewing a slideshare presentation from SEO Expert David Quaid, Primary Position on how to put together an Internet Marketing Strategy.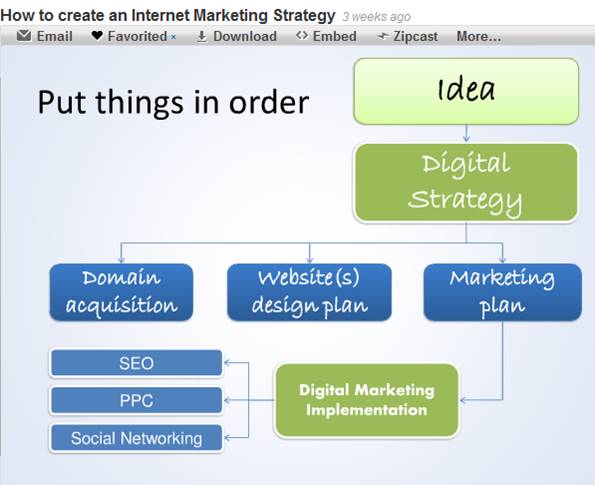 No one can guarantee a #1 ranking for your website on Google, Yahoo or Bing. For anyone who wants to get up to speed on SEO, a good starting point is a pdf called Google Search Engine Optimisation Starter Guide
Organic Search
The advice is to write text for your website that your potential customers will be interested in. It is important to limit the amount of text presented – on the web people want to find information quickly. The key question for anyone developing a website using the GIBO tool is:
What will people be looking to find online when they would be happy to find your website?
This is the information that must be presented as content (words, images, or videos) on your site. I think that information about the people in your organisation is important. The majority of sites being developed as part of GIBO are for local businesses. I would imagine that networking and word of mouth plays a big part in their marketing. The people that you meet will often google your name and names of your employees to find your business.
Meta Keywords, Meta Description and Alt tags
I empathise with attendees of the Getting Irish Business Online training who feel that there is an aura of mystique surrounding SEO. It is this area of meta tags that causes most concern. Meta keywords is text that is not seen by the visitor to your website. It helps search engines to figure out what your website is about.
In the GIBO Blacknight tool, the Website Title and Page Titles are very important as the pictures below demonstrate. Search Engines also gives weight to headings in the body text. Headings also provide structure and clarity for your reader.
The title of the website is Donncha Hughes while the title of the homepage is Startup Business Consulting, mentoring & training in Ireland. The image below shows where this text is inserted (can be modified) using the Blacknight tool.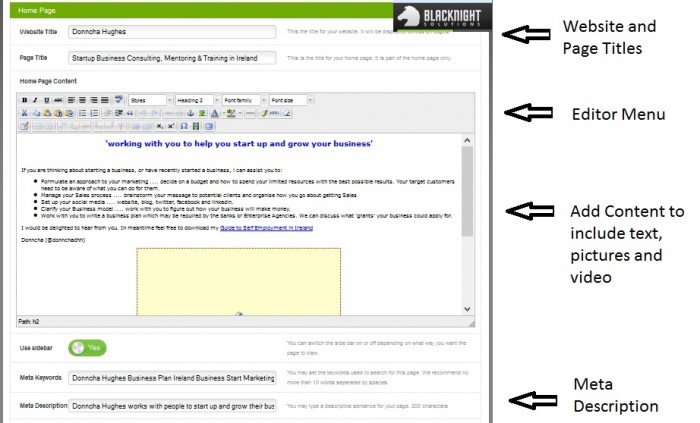 And this image shows how Google presents this information to the web searcher. When google searches for 'Donncha Hughes' my new sample website is returned on the first page of results.

For business promoters creating their GIBO website you will need to balance the words that you use in your page title considering how they will look on your site, how searchable they are and also how they look when Google presents them in a search result. You can assess the searchability of your keywords by using the Google Keyword Tool which tells you how many times your 'keyword and related words' have been searched in the previous month.
The next thing that you need to do is create more pages using the Blacknight tool. When you create more pages you can add in Meta Keywords and Meta Descriptions.  Creating extra pages is not difficult and creating these meta tags is covered as part of the first training workshop.
Finally, Alt Tags are descriptions that Google uses to classify images to include photos and logos. It is important to think about and include relevant descriptions of your images.
Links to your site (backlinks) from other sites.
The training workshop covers how to create hyperlinks to other webpages from your new site. This is often the first time that some attendees have heard of hyperlinks so don't worry if the term is new to you. It refers to a link to a site that you deem of interest to your readers. The classic example is a professional service provider stating on their website that they are a member of a professional body. When they give the name you will see that you can click on the name and surf directly to that website.
Search Engines will rate your website as being relevant to certain search queries if other websites have created hyperlinks to your site. This is called a backlink. GIBO attendees are often surprised when I ask them to 'google' their business. It will probably be mentioned several times in Directories or other review sites. To get your backlink strategy up and running you can contact these sites and ask them to update your details adding your website.
I have delivered over 20 workshops to date in North Tipperary, Clare and Limerick. A few sites created by attendees include:
www.hydro-gen.ie
www.thedolphinproject.eu
www.japaneseknotweedcontrolservice.com
www.ennisfringefestival.com
www.michaelcoreyassociates.com
Social Media and Online Marketing
is important for letting people know about your website. In addition to your email signature think about your business facebook page, twitter, linkedin and Google+. You can also consider Google Adwords.
Finally
Please contact your local Enterprise Board to find out when the GIBO training workshops will take place. It is very important to understand a little bit about SEO from the outset as the URL that you select is also a very important factor in being found online.
And finally, for anyone who has attended a training session, don't forget to tell Google about your new site @ www.google.com/addurl. It is also important to update your site regularly and to sign up for Google Analytics, a free service that generates detailed marketing data about visitors to your website.
For local Search, I suggest signing up to Google Places for Business – another free service from Google.
And for people who blog, Google Authorship is highly recommended.
I hope you enjoyed this post. Comments welcome!
Donncha Hughes (@donnchadhh)